National Crush Rashmika Mandanna, has been on a roll lately. Recently, the actress wrapped up the shoot for her upcoming film 'Animal', which is directed by Sandeep Reddy Vanga. The film stars Ranbir Kapoor, Anil Kapoor, Bobby Deol, and Tripti Dimri. Now, post wrapping the film in New Delhi, Rashmika is in Hyderabad and will start work on her much awaited film, 'Pushpa 2' and the character of Srivalli. The actress took to her social media to pen an emotional note on wrapping shoot for Animal. In her note, she writes, "20/6/2023, Dear Diary, Today, hmm no actually last night I had a night shoot and I just wrapped up and I am back in Hyderabad and tonight I start work on Pushpa 2.
This film was really surprising for Rashmika Mandanna
But first, I wanted to say a few things about how much I loved working on the sets of#Animal. Initially na… the film came so suddenly to me, was really surprising but I was extremely extremely excited for animal cz of course I wanted to work with the whole team. I think I've shot for about 50 days now for this film… and now that it's over, I am starting to feel one big void. I absolutely loved working with my boys to the extent that they have and will always have a special place in my heart.
The whole team are such darlings ya.. everyone who I worked with on set are so professional and yet so kind hearted and I infact kept mentioning to them that I would've loveeeed to work with them for 1000 more times and I'd still be so happy . So 1st @sandeepreddyvanga is awesome everyone knows that, he is so obsessed with his craft and character creation that – the clarity he comes with for all scenes and also the freedom he gives to artists is just absolutely amazing.
Rashmika Mandanna praises Ranbir Kapoor
"My acting or performance depends directly & entirely on the director" is something I thinkyou now know and so tomorrow if people like what they see or me in Animal – all credits goes to whom you know Rkaaaaayyy, I think initially because he is #ranbirkapoor I was super nervous but my god!!! Our little secret… God has really taken his time to make him perfect ya.. Brilliant actor Amaaazing human Everything else Crazy no? Love it.. but what a beautiful human he is ya.. I only wish the best for him for life and woaaaaahhhhh. wait haveeeee to say this RK in Animal is. I don't think people are ready for him yet but the release is coming sooooooooonn… I am super duper excited for the team. Amit sir has made it so easy for us to perform which Sir's lighting's and all, loved it I got to work with @anilskapoor sir also.. he's also been so nice to me.. Animal team.. they rock ya. I love them.. I loved everyday I shot with them. They are special to me. Big bigger biggest hugs to them.. I hope I get to spend more time with the team, but I don't.. @- least you'll know how special they're to me.. Every word O've said here, I meant it. I want to tell the team " Thank you for being so awesome"..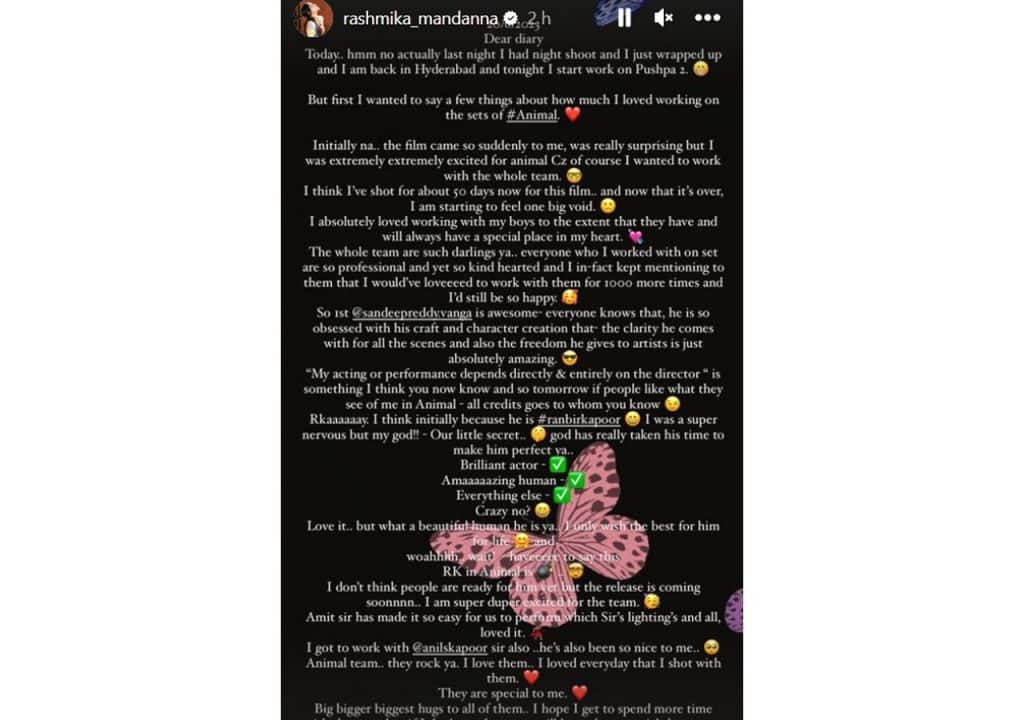 The leaked pictures from the sets of Animal have gotten the viewers excited to see the fresh pairing of Rashmika and Ranbir Kapoor on-screen, who will be seen together for the first time with the film. Rashmika also will be next seen in Rainbow, VNR Trio.